Every week on CakeJournal we will explore the credibility of "5 ingredient (or less) desserts". These dessert recipes boast delicious results with few ingredients and minimal time required. Pinterest is overflowing with these easy recipes and it's practically impossible not to be sucked into an article about how you can make delectable treats with a fraction of the ingredients. However, the validity of these recipes is debatable. That's where I and my group of trusty taste testers come in to help.
This week on five ingredient (or less) baking, we will decide whether Oreos really do taste delicious in anything. I found this recipe on Pinterest the other day, and I got so excited! Oreo cheesecake cookies? My two favorite things combined into a creamy, sweet cookie? I'm in! Of course, I was skeptical. Delicious cheesecake Oreo cookies made from only 5 ingredients? That has to be too good to be true…right?
5 Ingredient Oreo Cheesecake Cookies
Ingredients:
4 oz cream cheese, softened
8 tablespoons butter, softened
3/4 cup sugar
1 cup flour
10 (or so) Oreo cookies
Directions:
1. Put the cream cheese in a bowl and beat with a mixer until light and fluffy. Add the butter to the cream cheese and beat until well combined.
2. Add in the sugar and beat until completely combined.
3. Add in the flour a little at a time and beat into the mixture at a slow speed.
4. Crumble the Oreo cookies in a plastic bag. Add the crumbled cookies to the dough and fold them throughout the mixture.
5. Preheat the oven to 350F. Roll the rough into teaspoon sized balls and place on an ungreased cookie sheet. Bake for around 10 minutes or until golden brown around the edges.
6. Let the cookies cool completely on the cookie sheet before transferring them to a plate. Enjoy!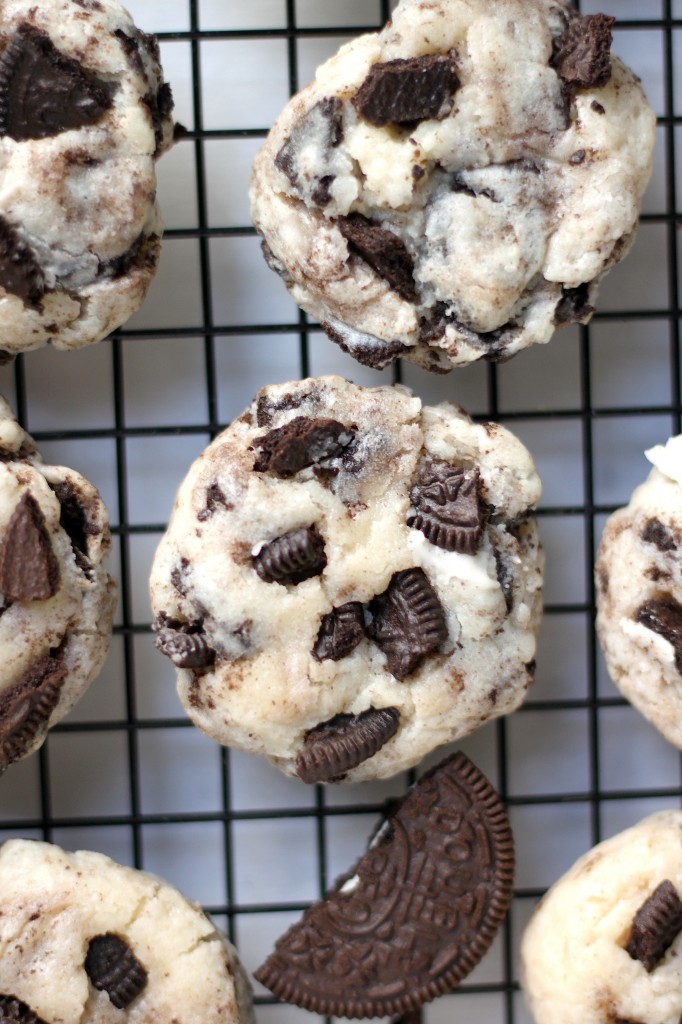 Photo Credits: bakerbynature.com
The cookies turned out so much better than I thought they would! The dough was sticky but not impossible to work with. I found the proportions in the recipe a bit small, so I doubled the recipe. The doubled recipe made about 30 cookies. Ten minutes was the perfect amount of time for the cookies, but the cookies do need to cool completely on the cookie sheet. That way the cookies will be soft but not gooey.
The final verdict: These cookies rock! My taste testers called them decadent, indulgent and "almost sickeningly sweet". They are equal parts smooth cream cheese and chocolatey Oreo cookies. I give these cookies a 9/10! These cookies work great if you're looking for a great recipe to do in a pinch. This recipe will knock the socks off your friends and family.
Modify this recipe anyway you like, by possibly adding cocoa powder or making a vanilla icing to drizzle on top! The possibilities are endless for this simple, but sweet recipe!
Check out 3 Ingredient Banana Chocolate muffins here.
Check out 5 Ingredient Cake Mix cookies here.
Want to see more 5 Ingredient or Less baking? Let us know in the comments!