If you ever see those stunningly decorated cakes in the shop window with their fabulous flowers and colorful patterns, then chances are the artist made them using wafer paper. Bouquets of delicate-looking blooms, cascade down the side of a wedding cake, and you can't help but wonder how on earth the artist achieved such a feat of culinary delight. And what about the cakes which display photos of the faces of favorite characters?
Cake decorators remain an inventive bunch, and the range of tools and products available to create such fabulous culinary feats feels almost staggering. However, most home cooks don't have access to the expensive equipment and tools needed to make such dazzling treats, no matter how ambitious we start. Have no fear because wafer paper may change your life and transform your cakes into sumptuous masterpieces. This is a game-changer fact you should learn.
What Is Wafer Paper?
Wafer paper may revolutionize the way you decorate your cakes. In its basic form, it consists of a sheet of edible paper used for cake decorations. The vital ingredient is one of the most versatile tools for every cooking professional but remains a magical secret that all home cooks may take advantage of.
The ingredients used to make the paper mean it doesn't have a distinct taste. It's so subtle you may not notice it, which is ideal when you don't want anything to interfere with your cake's delicious flavor.
Professional cake decorators use it to make stunning flowers and printed decorations for cake commissions. Many of the superhero cakes you see on the shelves use wafer paper printed with the design before applying it to the cake. Plus, you could print family pictures or portraits onto it to add a personal touch to your creations. So, the ingredient is incredibly versatile. A cake like no other.
What Is it Made from?
Sometimes you may see wafer paper referred to as rice paper, but that is not strictly true. The cake decorating miracle's basic ingredients derive from nothing more than potato starch, water, and vegetable oil.
The thin sheets of paper act like regular paper and open up many applications for professional and home cooks.
How Long Does it Store?
If you keep wafer paper in dry, clean zip-lock bags, you can store your stash in a cool, dry place for up to three years. Keeping your ingredients dry proves the essential trick to storing your goodies, and if kept in an airtight environment, they remain fresh and edible for a long, long time. It's super easy to store them.
How to Decorate with Wafer Paper?
You don't need to be a professional cake decorator to achieve stunning results on your home-baked creations. You may learn how to make flowers from wafer paper with just a few essential tools in a few easy steps.
Use Food-Safe Ustensils when Making Decorations
If you intend to make decorations from scratch, you must use food-safe tools such as food-safe scissors when preparing your shapes. Furthermore, you must only use the scissors for food and sterilize them in the dishwasher before using them.
You may wish to begin with some essential flowers to build your confidence before moving on to more complex flowers such as roses. If you don't want to cut out your shapes free-hand, then use an edible ink pen to draw your petals onto the wafer paper and then cut them out with your food-safe scissors.
Shaping the Paper into Flowers
Shaping your flower petals gives a more authentic look to your finished piece. Start by cutting out a basic flower shape. If you want to layer it, cut out at least three of the same shapes and make the last one smaller than the others.
Using the edge of your scissors, gently roll the petal over the edge of your scissors to curl them. You can achieve a variety of pretty looks with this method, but be careful not to rip or tear the delicate wafer paper as you curl each petal.
Layering the Petals
For an effective and pretty flower, try layering your petals, one on top of the other, to create a fuller-looking decoration.
Once you feel happy with your shapes, then the fun begins. Use an icing bag with a small nozzle and a thick icing mixture to use as glue. You don't want the icing mixture too thin or watery because it may melt the wafer paper.
Place a small blob of icing in the middle of the first flower shape and place the second shape on top of it and make sure to offset the petals.
Finish this initial phase by placing the smaller cut-out in the middle and gluing it into place with a bit of icing. If you shape the inner layer more than the outer layers, the flower may look more naturalistic and impressive.
Finishing Touches
Pipe a blob of icing in the center of your finished flower design and push in a bunch of edible pearls to look like stamens. The edible pearls come in various gorgeous colors so that you can use any color of your choice. Bunch up the pearls tightly together for a fuller effect.
Leave the flower to dry before applying it to your cake. Whether you make loads of them or just one or two, use the thick icing and piping bag to glue them to your cake.
Tips & Tricks
When you cut out your shapes during the first stage, you may use edible ink pens to draw veins or shapes on the petals before you shape and assemble them. It remains essential not to soak the wafer paper with ink, or it may dissolve, so you may wish to experiment before you proceed. However, doodling on the petals gives a stunning, unique effect.
Try spraying your finished flower with edible glitter. The effect looks stunning on the finished cake, and your friends may find it impossible to believe you made it!
Advanced Techniques for PROs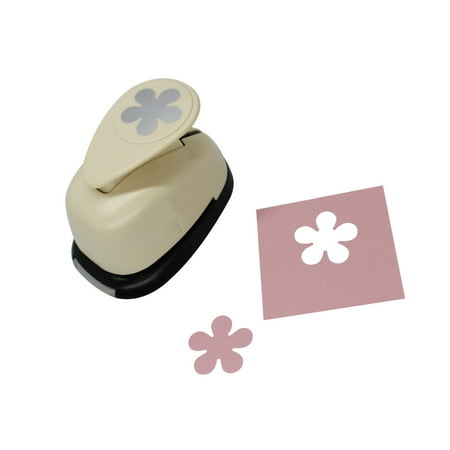 You can purchase a wide variety of paper punches to use with your wafer paper. However, you must use them for food only to avoid cross-contamination.
Flower paper punches make quick work of creating designs and come in a variety of shapes and sizes. And you may use a border paper punch to create decorative borders to wrap around your cake. Once you understand the possibilities, you may make some incredible cake decorations.
Die-Cutting Machine to Work
If you make cards and love crafting, you may have a die-cutting machine. A die-cutting machine uses special dies to cut out intricate shapes from paper and material. However, you may use a die-cutting machine with wafer paper.
It is essential to use new plates for the machine you must use only to cut food items. And it would be best to use paper-cutting dies only for it to avoid cross-contamination. However, with such a wide variety of dies available, you may cut some incredible flowers, borders, and panels to decorate your cake.
Imagine your Christmas cake covered in snowflakes cut from it or using leaf dies to cut stunning garlands to use with your flowers. The possibilities feel endless!
How to Color the Wafer Paper?
It is brittle when exposed to water and may disintegrate. So, if you want to color the paper, you must use oil-based food coloring.
Squeeze out a tiny amount of the food coloring on a plate and dab a food-safe sponge into the color. Proceed to dab the color onto it until you achieve the desired effect. Leave it to dry.
Gradient Coloring
You may gradient the color by using two or more colors, dabbing it onto the wafer paper gently until you achieve your desired blend. You may darken the edges of your petals to achieve a realistic look for your flowers.
That Touch of Decadence
To further enhance the look of your decorations, you may apply edible gold leaf to your designs.
Flowers look fantastic when you apply patches of gold leaf to the petals. However, if you use die-cutting techniques to create borders and panels from your wafer paper, you may use edible gold or silver leaf to transform your die cuts.
Edible Printing
The cool thing about it derives from printing techniques. You may print onto wafer paper using an edible ink printer setup. However, this requires a considerable investment.
Using edible printing techniques opens a whole new world of cake decorating possibilities because it removes those final barriers to your imagination. You may create spectacular borders and patterns to adorn your creations or print family portraits to place onto your cakes.
If you intend to start a business from home decorating cakes, an edible printing setup transforms your small business. Personalization remains popular, and the ability to personalize your cakes helps set you apart from the competition.
Wafer Paper's Flexibility
When you first try using wafer paper, you may find it brittle to work with or wish to shape your creations more dramatically. You may need to treat your medium to make it more flexible.
A simple formula for doing this derives from using 1 packet of gelatin, 1/4 cup of cold water, and a tablespoon of glycerin.
Sprinkle the gelatin over the water in a microwavable bowl and let it bloom for 15 minutes. Melt the gelatin in a microwave using 15-second bursts, but don't let the mixture boil before mixing the glycerin into the melted gelatin. Also, having a microwave makes you more versatile in your work. you can even make delicious microwave mug cakes.
Apply the warm mixture to your wafer paper using a brush but apply it sparingly. Too much mixture may make the paper buckle. If you want to apply it to colored designs or printed images, use a fine spray to cover it and leave it to dry before using it thoroughly.
Once completed, you may find it more robust and capable of achieving shapes without cracking or breaking.
Where to Buy Edible Wafer Paper?
You may purchase it from various vendors, including Walmart and Amazon, and both stores represent trusted and reliable places to buy.
It comes in a variety of pack sizes and paper sizes to suit your requirements.
Plus, specialty craft stores such as Craft Stash offer a wide variety of paper-cutting dies and smaller paper-cutting machines to suit your projects. Suppose you don't want to invest in a large electronic cutting machine. In that case, a small hand-operated die-cutting device may prove very useful for making a variety of flowers and designs.
Suggested Read: Butterscotch Recipes
Final Thoughts
As a home baker, I often look in the stores at the huge cake displays and feel the fingers of envy trickle down my spine as I witness their fantastic creations. My skills with a piping bag and icing prove almost negligible. However, the possibilities offered by using wafer paper open up a whole new world of cake decoration, and my Christmas cakes may never look dull again!
I am a home crafter, and I make many paper items such as cards and frames that involve a lot of paper flowers. By applying my paper crafting skills using wafer paper, I can make a wide variety of flowers to decorate cupcakes and larger celebration cakes for myself and my family. Not to mention that you can print a photo on it.
You don't need to be a professional crafter or cake decorator to achieve outstanding results. Using some basic techniques to cut out flower shapes and glue them into layers using small icing blobs, you may make some beautiful creations.
Explore Your Caking Hobby!
Die-cutting and printing techniques may transform your hobby into a viable small business. Wedding and birthday cakes always seem a popular choice for clients, and you may discover a whole new world of possibilities.
Cake decorating doesn't have to stay boring or plain. Explore your inner crafter and make some simple flowers to adorn your baking, and have some fun while making them.
Do you have experience using wafer paper? Perhaps you have some tips and tricks to share with us by commenting in the space below. We would love to hear more from you.
Eating a cake is satisfying, but making one is more exciting yet fulfilling. Here on our website, we offer you different tutorials about cake making, cake topper ideas, lots of treat recipes, and more baking-related topics.