https://cakejournal.com/tutorials/make-peppermint-candy-cupcakes/Whether you're in search of fresh recipes to add to your traditional spread of holiday fare — or you simply love to try your hand at clever and unique Christmas sweets — We at CakeJournal.com have gathered a delightful collection of recipes and tutorials for Christmas cakes, cupcakes, cookies and toppers featuring 18 of our favorite holiday treats for you to try! Happy holidays — and break an egg!
Christmas Cupcake Wreath

cakejournal.com/tutorials/christmas-cupcake-wreath
Made entirely of cupcakes, this centerpiece is both beautiful AND clever! Pull one cupcake off and presto: hungry children and guests craving a quick snack before dinner are out of your hair and out of the kitchen!
We got this tip from one of our readers: If you don't have the holly leaf cutter but you do have a normal leaf cutter, you can use the normal one and then use the open round end of a decorating tip to cut out along the edges!
Gingerbread Cookie Christmas Tree

cakejournal.com/tutorials/how-to-make-a-gingerbread-christmas-cookie-tree
Are you afraid gingerbread is boring and traditional? Not with this creative presentation! Layered cookies make this gingerbread Christmas tree unique and delicious too!
'Frozen' Inspired Layer Cake
iambaker.net/frozen-inspired-layer-cake
Inspired by characters in the animated film 'Frozen', this cake is both imaginative and beautiful — inside and out! We think Amanda "I Am Baker" did a great job using the white sprinkles as icicles – very subtle, which makes the inside an even nicer surprise..!
Gingerbread Dogs with Christmas Sweaters

cakejournal.com/tutorials/christmas-sweater-gingerbread-dogs
For all you dog lovers out there, these adorable pups are dressed for the holidays in fuzzy fondant sweaters — complete with sprinkles!
Marzipan Christmas Bites

cakejournal.com/tutorials/how-to-make-marzipan-christmas-bites
Easy and beautiful — these sweet treats are a festive departure from traditional cakes and cookies — who doesn't love marzipan?
Let It Snow Cookies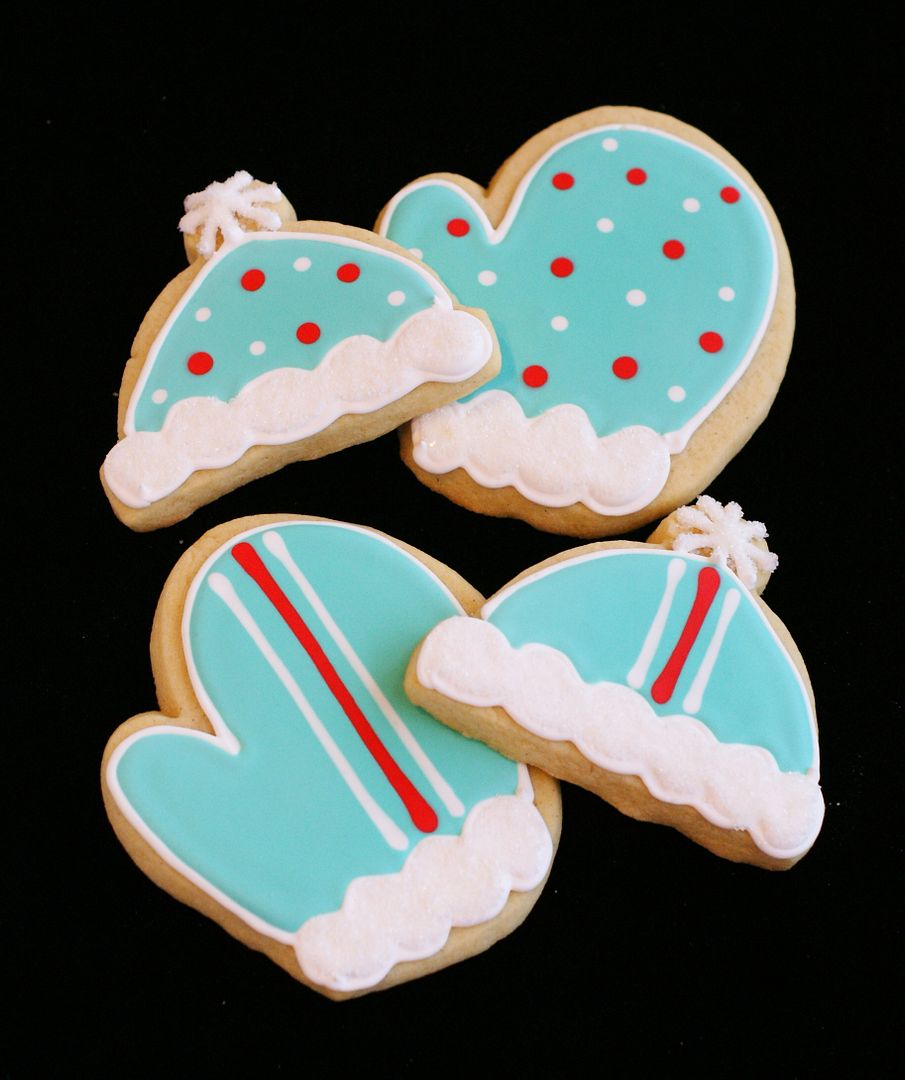 bakeat350.blogspot.nl/2011/01/let-it-snow.html
Brrrrrrr! These winter cookies will warm your heart when it's chilly outside — don't forget your hat and mittens! These gorgeous cookies are made with icing instead of the regular fondant, which is lovely.
Holiday Gift Box Cookies

cakejournal.com/tutorials/holiday-gift-box-cookies
Wrap up your favorite cookies in pretty paper and beautiful bows for the holidays — what a tasty gift!
Don't have a bow cutter but still want to make these awesome cookies? Check out this tutorial, which shows you how to make a bow without a cutter. This tutorial is for a larger bow, but you can modify it (just don't make the "wrinkles") for smaller bows for on top of the cookies.
Sparkly Snowflake Cupcakes

cakejournal.com/tutorials/make-sparkly-snowflake-cupcakes
Sparkly and sweet! These glittery snowflake cupcakes will make your table shimmer and shine! If you want to make these adorable cupcakes but you don't have the snowflake cutter, you can make your own by using white chocolate! Check out this tutorial and modify it into a smaller version for the cupcakes.
Christmas Tree Forest (of Cupcakes)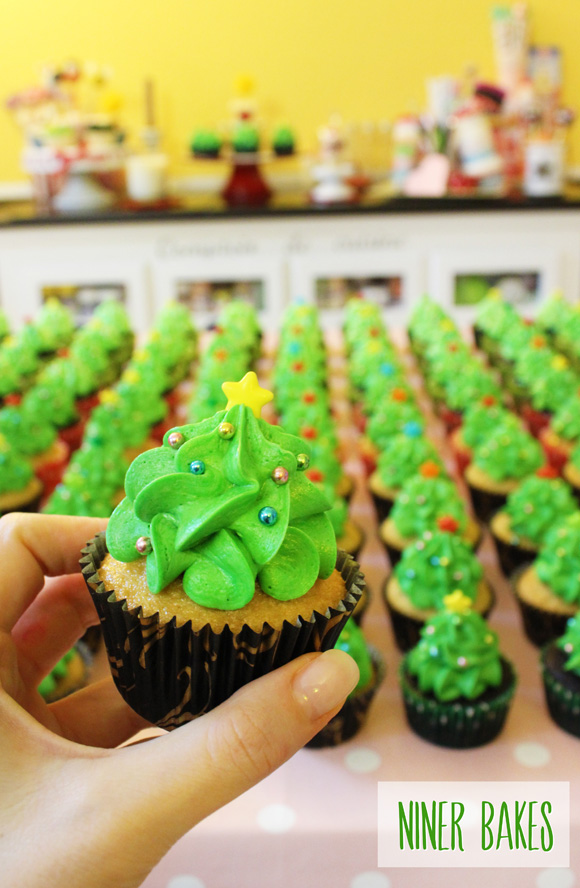 ninerbakes.com/2014/12/13/how-to-pipe-christmas-tree-forest-cupcakes
If you have a large group to feed and you're looking for that special 'Wow!' factor with visual impact — this is the cupcake recipe tutorial for you! Not just one Christmas tree, but an entire forest to fill the tummies of your guests and loved ones.
Snow Angel Cake

cakejournal.com/tutorials/snow-angel-cake
Complete with icicle accents, this snow angel cake is easy to make and will take you back to those childhood days of playing in the snow! In this tutorial we made it with coconut, but not everybody likes that taste. You can also make chocolate shreds using a grater!
Christmas Cookie Ornament

cakejournal.com/tutorials/how-to-make-a-christmas-cookie-ornament
'Hmmmm, how can we put a new spin on tree decorations this year?' These cookie tree ornaments are smart and edible — and there's no boxing up delicate glass when it's time to take the tree down come January! Done!
Peppermint Candy Cupcakes

cakejournal.com/tutorials/make-peppermint-candy-cupcakes
Festive bite-size cupcakes are peppermint pleasers — boy, you said a mouthful! I know, I know, we posted this tutorial on CakeJournal just last week, but we can't get enough of it and it just HAD to be included in this post..!
Teddy Bear-on-a-Sled Cupcakes

cakejournal.com/tutorials/make-teddy-sled-cupcakes
Wheeeee! Over the river and through the woods—this adorable cupcake design has teddy bears on sleds dashing through the snow!
Who knew candy canes, mini Twix and Teddy Grahams would make the cutest cupcake toppers!?
Christmas Wreath Cookies

cakejournal.com/tutorials/how-to-make-a-christmas-wreath-cookie
Nothing says Christmas like green and red — these cheerful wreath cookies will surely become a holiday favorite!
Christmas Cake & Cupcake Toppers
And if you're looking for the perfect holiday toppers for cakes and cupcakes, we've rounded out our list of favorite holiday recipes with these special, creative designs that are sure to please:
Snowman Cupcake Toppers

cakejournal.com/tutorials/snowman-cupcake-toppers
The possibilities for facial expressions are endless for these jolly fellows—using a few basic shapes to create, this is a great 'edible art' project to get children involved too!
Elf on the Shelf Cake Topper

cakejournal.com/tutorials/elf-cake-topper
Bring the magic of this fun, family tradition to your table with your own elf-on-the-shelf topper! Isn't he the cutest?
White Chocolate Snowflake Cake Topper

cakejournal.com/tutorials/chocolate-snowflake-topper
This topper is oh, so elegant and sparkly in 'Tiffany-blue'! And all you need is melted chocolate, could it be any easier?
Santa Cupcake Toppers

cakejournal.com/tutorials/santa-cupcake-toppers
Another clever use of basic shapes, these happy little Santa toppers will bring a smile to even the grouchiest Christmas Grinch!
Well, we hoped you enjoyed these recipes. Don't hesitate to share this, and let us know what you think in the comments below!
Happy Holiday-caking everyone!